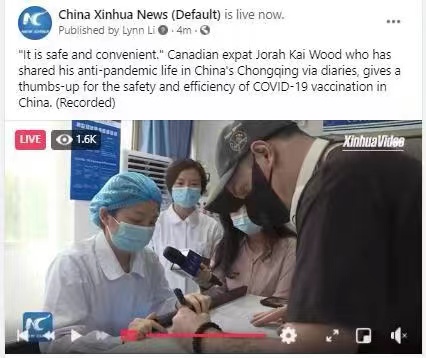 "At some point, you have to recognize what world it is that you belong to; what power rules it and from what source you spring; that there is a limit to the time assigned you, and if you don't use it to free yourself it will be gone and will never return." – Marcus Aurelius.
I got my vaccine finally. Jab one of two, anyway, of the Beijing Sinopharm, from what I've read, 79% effective against serious COVID disease, and especially good in my fairly youthful age bracket. The next one will come in July. After 475 days since the Wuhan lockdown and voluntary Chongqing lockdown that altered the course of my life, and the trajectory of the world: keeping people locked inside with their choices, and rewilding nature in many places, grounding planes and giving us plenty of time to think about what we were doing and where we were going, I caught my makeup appointment at the First Affiliated Medical Hospital of Chongqing. It'd been delayed due to a bad cold and the May Day holiday. But getting the vaccine finally was a huge relief.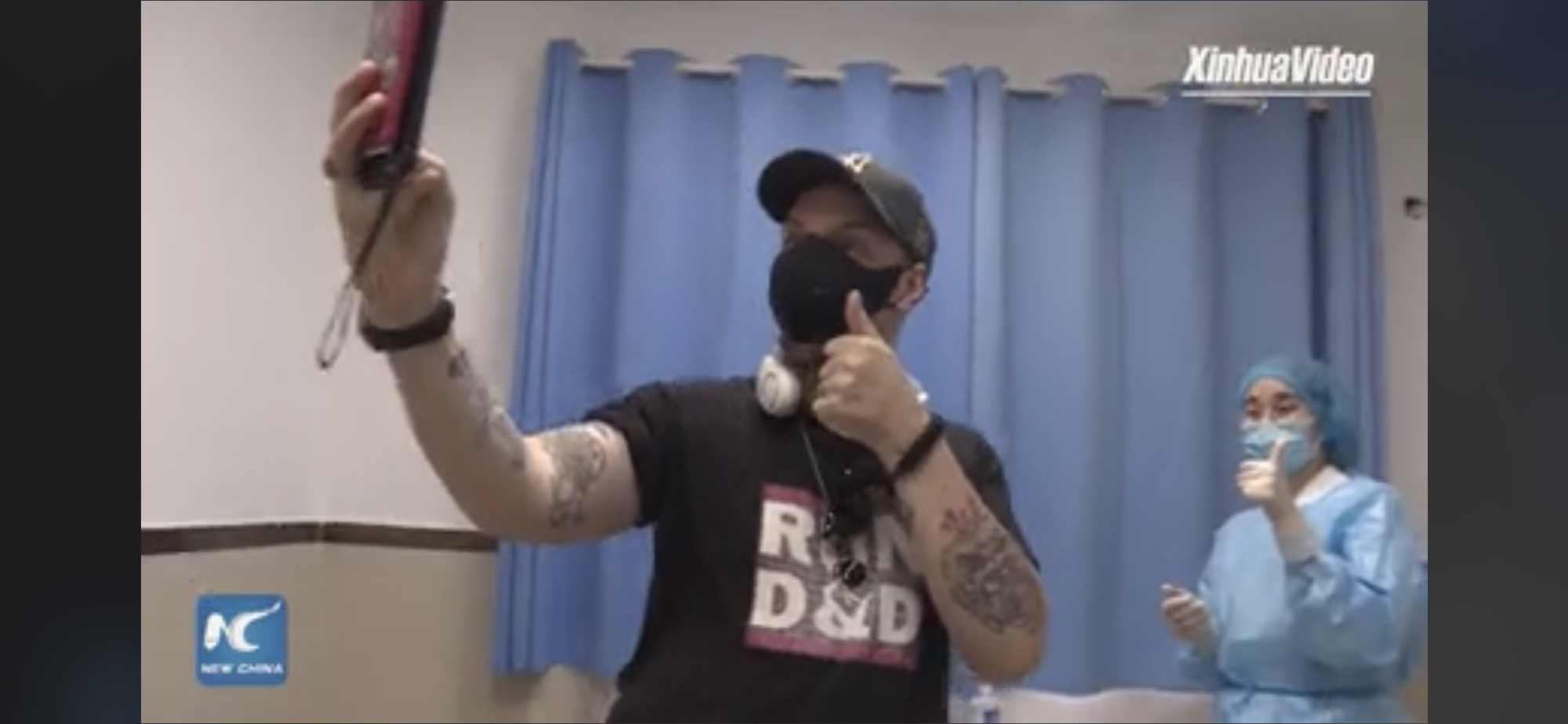 After the local sensation of my diary and subsequent publication in Chongqing and, to a lesser extent, around China, local and national media was interested in my vaccination status and thoughts. I promised to agree to an interview when I finally made it there. Entering a few minutes before 4:00 pm, I ran into a few teacher co-workers on the way out of the clinic as I arrived and met with Sue from Xinhua (National) Chinese News and Truman from our local iChongqing group. Sue live-streamed the entire process, and I had to admit, I felt a bit like Bono, everyone lined up and waiting for me, all the nurses fluent in English to explain the sign-up procedures and protocols while the cameras rolled. They were proud to show off their organizational systems and efficiency to a global audience, but as a Leo and 20-year stage performer, it's easy to let that kind of attention make me feel a bit special. I was giddy with excitement.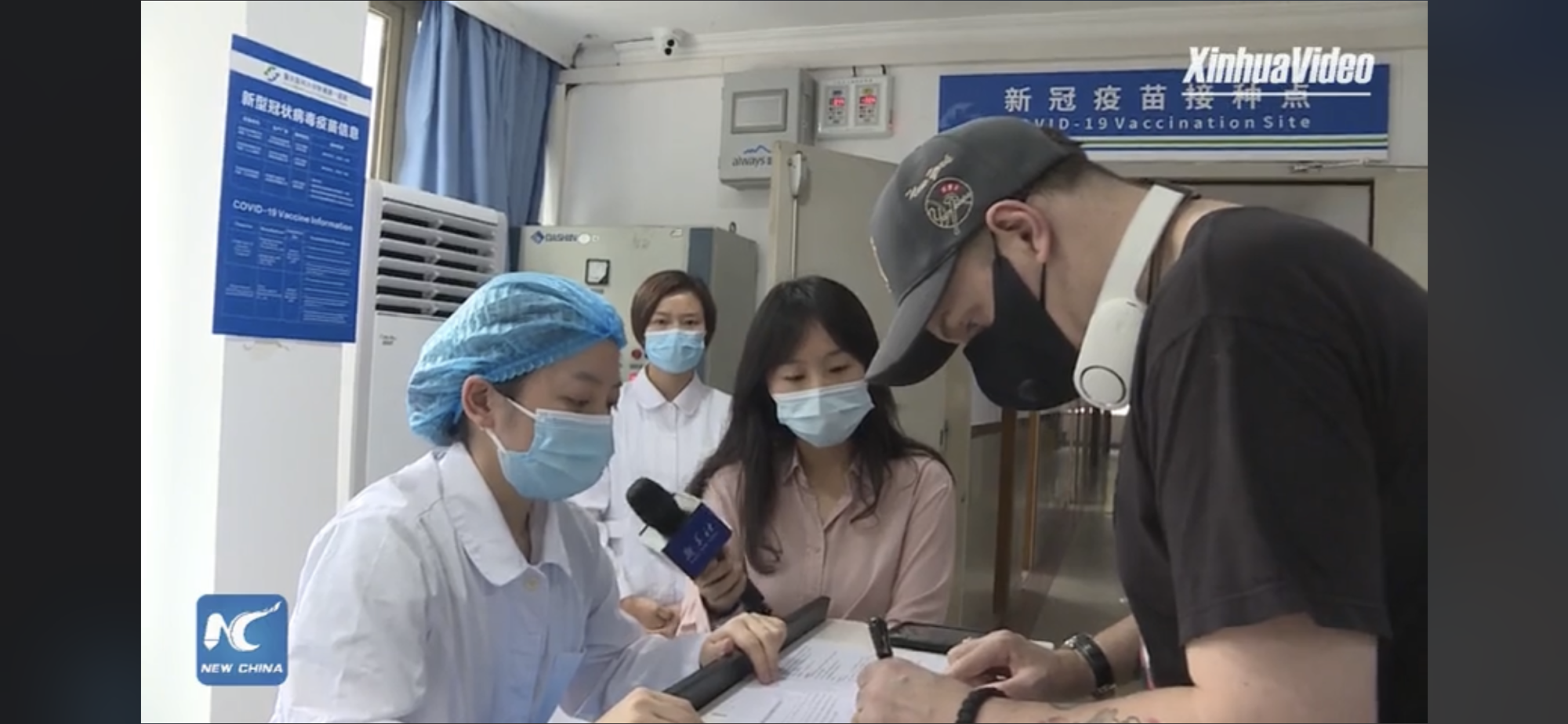 The process was easy, show ID, sign a few forms, and get taken into an exam office. Everyone spoke perfect English to me and was very polite. I got my jab in my right shoulder (IM) in case I felt a bit sore (it did, and that was the extent of my reaction that evening) and had to write later. I was told to wait 30 minutes in case of allergies or complications so I could be treated within the hospital facility. While I waited, I talked with Sue about my writing; my next books, Year of the Rat, Amos goes Elsewhere, and the success of my first book, The Invisible War, marketed late stage as Kai's Diar; I believe in many reasons to not add to incendiary relations between China and the USA despite TIW being an apt title for the global pandemic, Kai's Diary is perhaps innocuous and stoic enough that it can more easily be shared between countries as a true account of a teacher, writer, and journalist that experienced the successful Chinese anti-epidemic campaign and how lockdowns, quarantines, masks and other NPI's (non-pharmaceutical interventions) worked in Chongqing to beat back and squash the SARS-COV-2 virus. While I had hoped, rather idealistically at first, that it would provide a road map for other nations to follow unilaterally, at the least, it is an honest account of what happened and can be compared to other nations and their varied responses. A historical account, for better or worse. After, I spoke to Truman about the Indian explosion of their latest wave, new variants of concern, and my hopes and wishes to visit my family in Canada again soon.
I've felt a variety of ways since this all began, now 490 days since I locked myself into my home for 60-70 days and treated this like the apocalypse. For how serious we took it, it paid off. Many mocked and laughed at China's extreme measures, calling us "draconian." Still, not many countries can boast the freedom and security we have to travel domestically, enjoy a night at the bar, restaurant, workplace, or school in safety that we have here. My role as a blogger in the pandemic has shifted a lot, and now, I am writing only occasionally, from daily to once a month, to keep tabs on things as we ride out into the sunset. I started as bubble boy on tv, a curiosity in the West (Oh, Kai's in lockdown! Wild!). Next, I was the helpful and scary harbinger— this is my shopping list; get it while you can; the plague is coming. Then, I turned into the first glimpse at "post-pandemic" hopeful life, showing people how they could overcome the challenges and work together using China's playbook to beat the damn virus. When the public policy in the West went a different way, things got tense. I became annoying as a thorn in the side of the West, "this could be you now if only your leaders had both brains and guts." So I settled back and enjoyed my post-pandemic life—- but I am happy to see the West improving, and worried, very worried about the developing world.
Beyond my constant message of masks, I'm happy to see some attention on Vitamin D, nature's remedy, because it helps a lot, and it's nice to see what we've been saying for a year getting some government attention … in Ireland. About a year after we've been pushing for broad vitamin D acceptance, some governments are creating action reports recommending for food fortification and doctors to prescribe: minimum of 1000 international units (25micrograms) for all individuals, much more for vulnerable populations. (4X+). Why is Canada still silent on vitamin D? The nutritional board laughed this argument off Twitter as our old and vulnerable populations were decimated. It's really so hard to say, and I'll never understand why we spent those first few months telling people not to wear masks.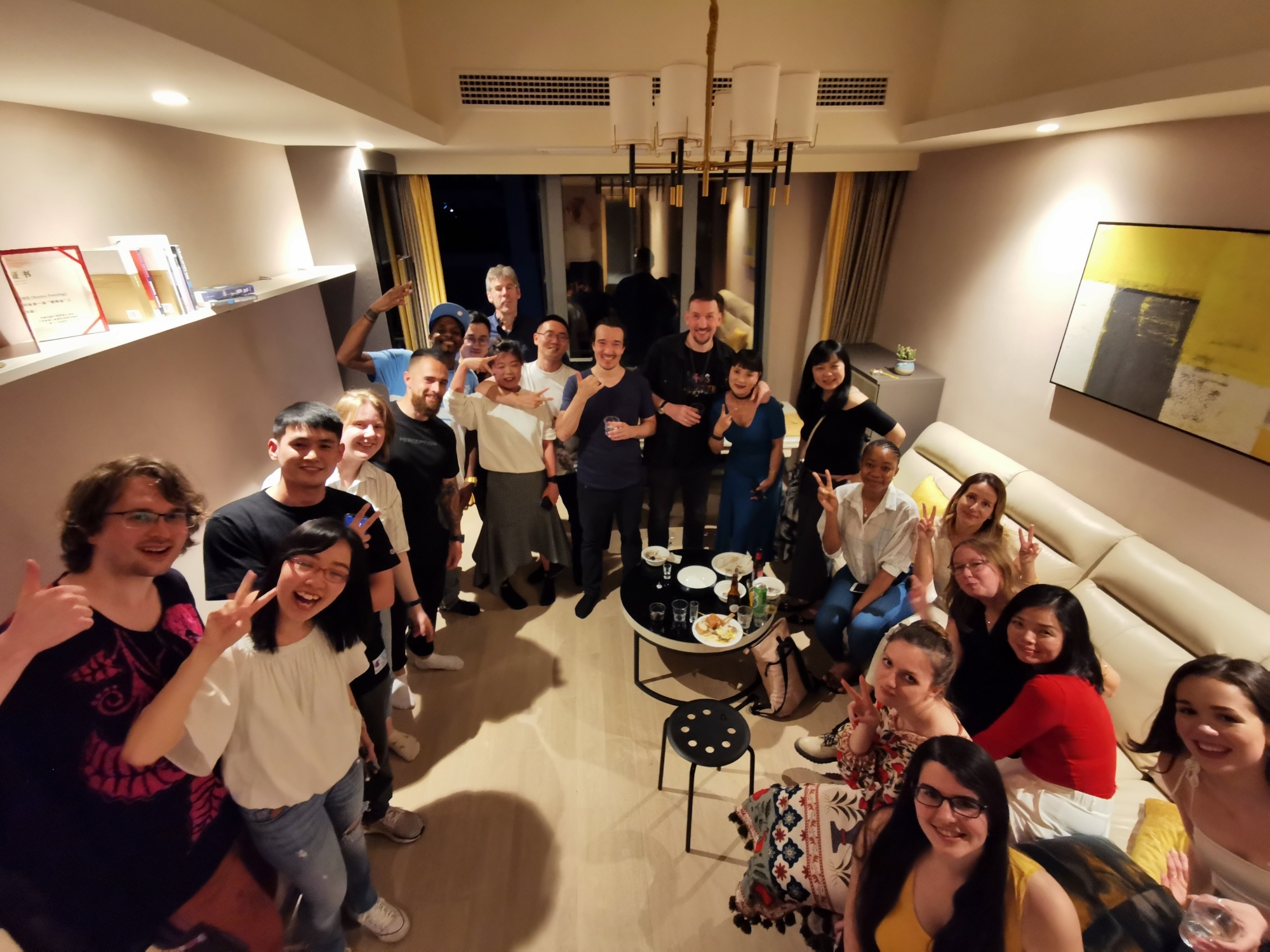 Last week my friends Jess and Randy had a housewarming party, and it was a lot of fun. They got a place together in Raffles Tower, the 6 BN USD horizontal skyscraper designed by Moshe Safdie. It's a gorgeous building, a very fancy new condo, and they have a private 24-hour pool, garden, and jacuzzi's with an incredible night view of Chongqing city. It's amazing— at only the price of my mortgage, we too could live like rockstars. At least I'm invited back for the pool party; hopefully, I mean, I did challenge Randy to a duel with his flip-flops. Get half a bottle of whiskey in me and add a champion fencer to the mix, and it was inevitable. I lasted about 3 hours before anyone brought up COVID to me, and it was only to ask how my book sales are doing, and that was pretty cool. A house party, drinks and friends and fun. It can be yours again. Get your vaccine.
President Biden and the CIA are launching a probe into the origins of COVID-19 and claim the Wuhan virology lab leak theory as one of their theories, despite China repeatedly saying it is impossible and that this is a spurious and harmful allegation that undermines the collective effort to tackle the global pandemic. Most doctors seem to agree in a zoological theory that it passed from animal to human organically somewhere, possibly involving bats which have a large reservoir of coronaviruses that mostly we don't catch. The political posturing makes the COVID-19 fight overly political and, as we saw with 'masking,' interferes with the efficient fight to stop the spread.
Being in the world's largest (99.99%) COVID-free bubble all this time has been interesting, frustrating, made me feel lucky and impotent, and a wide range of things, really. I realized that in a county as large and varied geographically as China. I could stay here forever and feel pretty satisfied, my new hometown of Chongqing offers both the biggest of big cities (ala New York) style life, in the downtown areas, as well as a more peaceful and traditional sort of Chinese life in my school neighborhood. I can get out of town and visit our friend Helen's "Swedish village" in the countryside for some camping, BBQ and fresh air, or any of the many mountains and getaway spots in the region, the rural villages now many converted to fruit growing, fishing, and relaxing tourist spots as part of the poverty alleviation campaign that has brought 850 million Chinese out of poverty in the last couple of decades. We have sandy beaches similar to Thailand or Hawaii, or Mexico in Sanya and Beihai, close to Vietnam, and we have a variety of deserts in Mongolia, Xinjiang, and others. I've got Canadian-style winters in the north, Harbin, close to Russia. The main thing I miss, other than live music and my old friends, are my family in Canada and the small comforts like a Cafe Colonades butter crust, wood fire cooked pizza, that reminds me of my simple and mainly happy childhood growing up in the capital of Canada, where I was told in primary school that we could affect change, we were the future, and that we would have to work hard to rise to the many challenges that awaited. I won't make it back this summer vacation, but I hope to for the next one, or maybe the winter, and catch some hockey games with my dad, and that's something, at least.
My mom just got her vaccine, the Pfizer/BionNtech the mRNA one, and today, my Dad and Ming are out to get one, too. My grandma is waiting for her second dose, soon. I feel so much relief as we are vaccinated and I hope soon to visit again. I told them to hydrate well and take it easy tomorrow, possibly expect tiredness, headache, muscle pain, chills, fever, or nausea. I'm proud of them. Doses are now open to every Canadian over 12, according to the Vaccine Hunter Twitter, which is the inside scoop on grabbing them near you since the official channel is "sign up and be prepared to wait weeks or months for a call." I really can't wait to visit Canada again.
Speaking of Hockey, we entered the Wood family hockey pool for the 2021 playoffs. It was a nice excuse to talk to some family folks, even though it exposed me to the gruff impatience of Uncle Dave, who sent about 30 emails in the middle of my night in China, asking me to clarify a comment about how to access the google docs spreadsheet I'd helped him upload. Oh well. Here are the ten players and one goalie my dad and I picked to earn the most points in the playoffs:
Hockey pool WOOD family
Sidney Crosby, C, Pittsburgh Penguins
Mark Stone, RW, Vegas Golden Knights
Auston Matthews, C, Toronto Maple Leafs
Alex Ovechkin, LW, Washington Capitals
Brad Marchand, LW, Boston Bruins
Nathan MacKinnon, C, Colorado Avalanche
Mitchell Marner, RW, Toronto Maple Leafs
Connor McDavid, C, Edmonton Oilers
Steven Stamkos, C, Tampa Bay Lightning
Mikko Rantanen, RW, Colorado Avalanche
goalie: Marc-Andre Fleury, G, Vegas Golden Knights
Since the Habs beat the Leafs in Game 7— we're probably not winning the pool, but let's see what happens, it's good fun all the same.
And just like that, an outbreak in China is in the news again: Authorities are shutting down districts in the capital of Guangdong, in Southern China, about 1300 KM from Chongqing, as the whole province remains on high alert. Several local transmissions were discovered, mainly asymptomatic, and several imported cases from Cambodia, Turkey, and Zambia. Opening up is dangerous – and we need to get vaccine numbers to 90%+ before we do it, in my humble opinion.
Xiaolin is busy lately, finishing the renovations for our new house that we bought in anticipation of Jin's wedding in September. China is still quite traditional in this sense, but to me it's amazing. In the west young people are generally encouraged to make it on their own, but being saddled with $100,000 in student loan debts and unable to ever buy a house, in a rental market that is increasingly pricing people out of nice areas and affordable living creates a very dystopian tone when we're trying to get our professional lives started. The idea that in China, we save up and buy our son a new house and when he gets married he's got no debts, a gorgeous new home and a wife and job and nothing slowing down his chances at a happy life, family, career and marriage, it sounds like a dream. Maybe I'll be reborn here again one day, and experience that side of it for myself. But I'm a proud father and grandfather to Ethan, and I look forward to the days ahead.
The cats we are babysitting, Bobby and Tina, are wild, but soft and furry, and seem to be getting along well with Benben and Hachoo. We hope Meito or someone else can watch them in August, and if it's still safe to travel, we can go to Sanya again for a break, but either way I'm excited to be just a few short weeks away from a chance to relax and write a new novel until the school year starts again.
Out in the world, it's become a tale of two pandemics. For a while, the UK and the USA all recorded their lowest case numbers and deaths since March of 2020; places like China, Israel, and New Zealand maintain close to zero new cases of community spread. Although lagging, Europe is getting its vaccination campaign underway as well. Canada's third wave is declining, although hotspot areas like Manitoba, the place of my birth, are still stuffing hospitals and flying critical cases to Ontario. These countries have a roadmap to opening up, and the CDC has said that fully vaccinated folks will be able to go about normal, mask-free life, socializing in and out of doors, and things are looking up for the summer. The snag is the Indian variant (B.1.617), now becoming a dominant strain in the UK and reversing course in the last few days, creating a new but possibly growing uptick as restrictions are removed, but vaccination is not yet complete. B.1.617 (the Indian variant) is the most transmissible to date to hit the Western world. The newest, from Vietnam, a country that has fared very well through this with great NPI measures, seems to be a combination of the UK Kent B117 and Indian (B.1.617 ) strain, and if or when it hits the West might rock us back to some state of vigilance. Unfortunately, we don't know much about it yet. The Vietnam variant, not yet named, is more transmissible than previous mutations and can replicate itself very quickly. It is also highly airborne in stuffy/indoor spaces. But, disaster aside, in the West, we have a roadmap, and we have hope of a long-awaited return to normalcy.
Israel is so back to normal pandemic-wise that it's been bombarding Palestine with rockets, taking out several journalist offices and other key infrastructure centers they claim are Hamas terrorist sites. As a result of the violence, 256 Palestinians, including 66 children, have died, with more than 1900 injured and displaced by the explosions, sewage running in the streets, and loss of power and water infrastructure due to rocket damage. In Israel, 13 people were killed, including two children, and 200 injured as a result of the Hamas rocket attacks back to Israel, 90% of which are stopped by their "iron dome." Years ago, to discuss the inequity of the Israeli/Palestine conflict or the displacement of Palestinians in the mainstream media would have been impossible, now, they are calling for an end to the violent oppression and apartheid.
The recent discovery of unmarked burial sites containing 215 bodies at the site of the Kamloops Residential School in B.C. has highlighted how there is still a lot to learn about where these children are buried. According to the TRC, at least 150,000 First Nations, Inuit, and Métis children passed through the residential school system in Canada. The TRC identified 3,200 deaths as part of its investigation. Prime Minister Trudeau calls these deaths and cultural genocide against the first nations peoples "the fault of Canada," and many are calling upon the Canadian government to scan the 139 other residential schools across Canada to see how many more mass graves are hidden as part of an effort to unmask the suffering and violence against our Canadian first nations aboriginal peoples, in a hope that it will lead to reconciliation, new opportunities and funding to give the reservations fresh water, access to affordable healthy food, meaningful job opportunities and grants and funding to teach their languages, and help to restore their cultural awareness. This year, for Canada Day, some experts have suggested we fly instead of the traditional aboriginal flags of the land we occupy.
Today in the news, the WHO greenlighted the COVID-19 vaccine produced by China's Sinovac for emergency use, now the second Chinese one after Sinopharm to be going into the global aid program, COVAX. This comes at a crucial time when India has stopped export to try to deal with its own COVID tsunami and other western countries have failed to donate excess doses to developing nations. It's a little ray of hope.
In the developing world, it's often another story. Jair Bolsonaro's Brazil is an unmitigated disaster. It's been a tragedy, and the only bright spot on the radar is his political opponent, São Paulo governor João Doria, close to releasing a made-in Brazil vaccine. His state beat federal authorities to secure the first coronavirus vaccines. It might save Brazil from the endless carnage and collapsed healthcare system and propel Doria to power in the next election. Like how Trump played down COVID and got more than half a million Americans killed, Bolsonario said it was just the flu and refused to wear a mask. India, the new global epicenter for the past month, had a similar situation: after getting off easy in the first wave, Modi declared premature victory over the virus and held huge political rallies, encouraged traditional festivals such as millions of people gathering to bathe in the Ganges river and pack into crowded hostel rooms, which caused a tremendous COVID tsunami that had more than 400,000 diagnosed cases a day, oxygen depletion and mass deaths from a collapsed urban health care system that ran out of basic supplies and beds and left people gasping for breath in ambulances and cars in hospital parking lots. The rural areas went mostly under the media's radar, but without hospitals, oxygen, or doctors, villages were ravaged, and the very sick were left gasping for breath. Without Oxygen, Jair Bolsonaro, Donald Trump, and Boris Johnson would probably have died from COVID. Without basic hospital and health care, that 1-3% fatality is more like 10-20%, and that's the worst-case scenario we've all been fighting hard to avoid this whole time. India instituted a lockdown, a difficult proposition or a country where so many millions are daily wage workers, and starvation is as scary a prospect as a COVID death. After a couple of weeks, the daily declared cases are in the 200,000 range, still enormous, but the Modi government is discussing opening back up again. A Chinese journalist in India sends pictures back: he says it's worse than the media shows, bodies piled up to burn on every street. The people are grim, and they are desperate. This nightmarish export could still be coming to you, if you let your guard down. The Indian variant is wreaking havoc on neighboring countries, Nepal, Pakistan, Bhutan, and other regions suffering terrible strain on their healthcare system, cremation services, and the public burning of bodies in parking lots and street corners has become a regular occurrence in many developing countries. Experts in Africa have sounded the alarm as COVAX vaccines run dry, India having paused the export of lifesaving vaccines to deal with -its own disaster leaving many other reliant countries without any protections from the dangerous new variants of concern. They say if you thought India was bad, with all their infrastructure— we have a disaster coming. AstraZeneca/Oxford has licensed out the rights to produce their vaccine to other distributors in some countries, the big Pharma giants behind the MRNA and other vaccines have not. As we see, in a globalized world, none of us are safe until we're all safe, and only worrying about our own country leaves us exposed to new, frightening variants that could evade our vaccines and start a new wave all over again. This is far from over.
Sometimes we think about the news and the state of the world with concern, pain, empathy, and a feeling that everything is falling apart. Of course, the environment is in a desperate state of change that could potentially write us off the menu, but we also see societal divisions and systemic racism, and ancient grudges afoot. Sometimes I feel like perhaps we have evolved enough to see our oneness, all humans, all of life, and we are shedding the cognitive dissonances that allowed us to persecute and mutilate each other for so long. Now, we are vexed because it as if our hands are cutting our body apart, we are waging war on ourselves. This pain does not have to be for naught, if we if can use our empathetic pain to stop hurting each other, ourselves and begin to heal.
When I think of how grateful I am to be in China, able to work, moving ahead with my plans, paying for the house, working on writing new books, publishing, teaching, and able to see my friends and family, I feel really grateful. The hard work we did upfront, the vigilance, and diligence, working together and sacrificing for the common good allowed us to have nice things. When I look at social media, there's still protests and people fighting and hobbling the half-hearted pandemic prevention measures, and my friends with parents who complain bitterly that their kids haven't seen their friends for two birthdays now, say that they will have a hard time forgiving those who dragged it on and allowed so much suffering, strife, economic recession, the bankruptcy of businesses, depression of individuals. When I see how well we worked together and how proud we are of the good job we did, versus what's going on in some other countries that's another tale of two pandemics, and I feel very lucky to have been here instead of there. Rather than merely saying this to gloat, I want to focus on trying to explore what made our response so spectacular, what is it about our society that allows us to work so well together in China, and what the west could learn from us if it could stop and pay attention, that could help us to combat climate catastrophe and save the environment with hard choices and personal and collective sacrifices. This is a tall order, but so necessary that I will have to give it a lot of thought and see if anything comes up in reflection.
I've been doing the One Meal a Day (OMAD) kind of thing, sometimes a tiny breakfast, often not, a large lunch, focusing on vegetables and non-red meat protein and either no dinner or something small like a cob of corn. My health check came back great, only that I have a bit of high cholesterol, so I'm cutting down on eggs also, and have exchanged coffee for green tea. A study showed that in Japan, folks who drank 5 cups or more a day were 25% less likely to suffer cholesterol-related health problems such as high blood pressure, heart attacks/disease, or stroke than those that didn't drink green tea. I've also taken to eating a handful of walnuts and almonds a day. Another study I read showed that a handful of these a day, six days a week for 30 days, reduced your LDR (Bad cholesterol) by 10%. These are little things I can do for my body. If you'd take your car for a tune-up to avoid blowing the engine, we deserve a tune-up too.
In climate news — big setbacks for big oil giants and bullies signal a long-awaited tipping point. The coalition is surprising: fund managers, progressives and environmentalists, big-money investors attacking from without and within to score startling victories against oil and coal; reforging the playing field and opening opportunities for green energy and a Green New Deal in the climate fight. Will it come too late, or just in time? Fingers are crossed hard.
For 520, a Chinese lovers day like valentine's day because Wu Er Ling (520) sounds like Wo Ai Ni (I love you), Xiaolin and I got each other new smartwatches. The new MiBand6 has a cute full-color screen and can monitor blood oxygen, heart health, stress levels, and has a new PAI feature, Personal Activity Information. Having a PAI rating of 100 or higher indicates good heart health and overall fitness and can extend your life by eight years or more, or so they say. The weather is cooling down a bit with all the rain we've had, so I had a few days of going back to jeans, and I had to cinch in my tactical belt a good inch or two. I've lost about 5KG and feel good about swimming, running, and my fitness/weight regiment. I'm keeping busy.
The Inner Citadel, as Marcus Aurelius writes about, is where I need to ground myself now. "He is most powerful who has power over himself," wrote Seneca, and I remind myself of this daily, that anger is a choice. Last Tuesday, I got quite cross with a couple of chatty Kathys in my class, and from time to time, I realize I've always had some control issues with my class related to pride and the idea that discipline was important. The Chinese school system is much different than the West, though, sending a student to the principal's office doesn't happen and is culturally much more mortifying for the student— I've been told some students kicked out of class leap from tall balconies rather than handle the humiliation of being punished.
Marcus wrote: "Nowhere you can go is more peaceful, more free of interruptions than your own soul…Retreat to consult your own soul and then return to face what awaits you." So after a long conversation with my wife, I decided to get back to the fun, happy, easy-going teacher I used to be. I can make a good case for why a western teacher gets mad: the lack of consequences for failing to earn a good grade when the school gifts the student an easy A, the fact that English classes are often second fiddle to math or science, the fact that we feel like a frill, an adornment rather than a serious part of the curriculum, can cause a teacher to want to flex their authority in the best of times. It can feel impotent not to have "power" or feel "important," and add to that the stress and chaos of a global pandemic, and no wonder I'm a bit stern. But demanding my kids put their math books away and pay attention, or don't so much as whisper to their friends when I'm lecturing only makes me angry and them angry and my school frustrated, and it's all a big waste of energy.
My cousin Scott, who humored me for the past few years despite my progressive leanings and his conservative ones, finally lost it with me when his favorite guy Trump lost to Biden, and continued to lament the half-million dead Americans and sorry state of their global pandemic leadership under Trump's failed 'strategy'. Now that Trump's being investigated for election tampering, fraud, violent insurrection, and other serious crimes, it seems more ludicrous than ever to stand by him, but believe it or not, he's emailed my wife and dad to complain that my dislike of Trump might be a sign of a mental problem. It's so hilarious it's hard to get angry, but part of me wants to rise to the occasion anyway. But then, I stop and think.
Anger is a choice— so I decide not to entertain it. Like Rumi wrote in 'the guest house,' when anger visits me quickly, I smile and acknowledge it. But then I let it go, and keep my happy feeling. It is poison to hold onto anger, to jump at the chance to become anger. Bruce Lee said,
"Be Water, My Friend. Empty your mind. Be formless, shapeless, like water. You put water into a cup, it becomes the cup. You put water into a bottle, it becomes the bottle. You put it into a teapot, it becomes the teapot. Now water can flow or it can crash. Be water."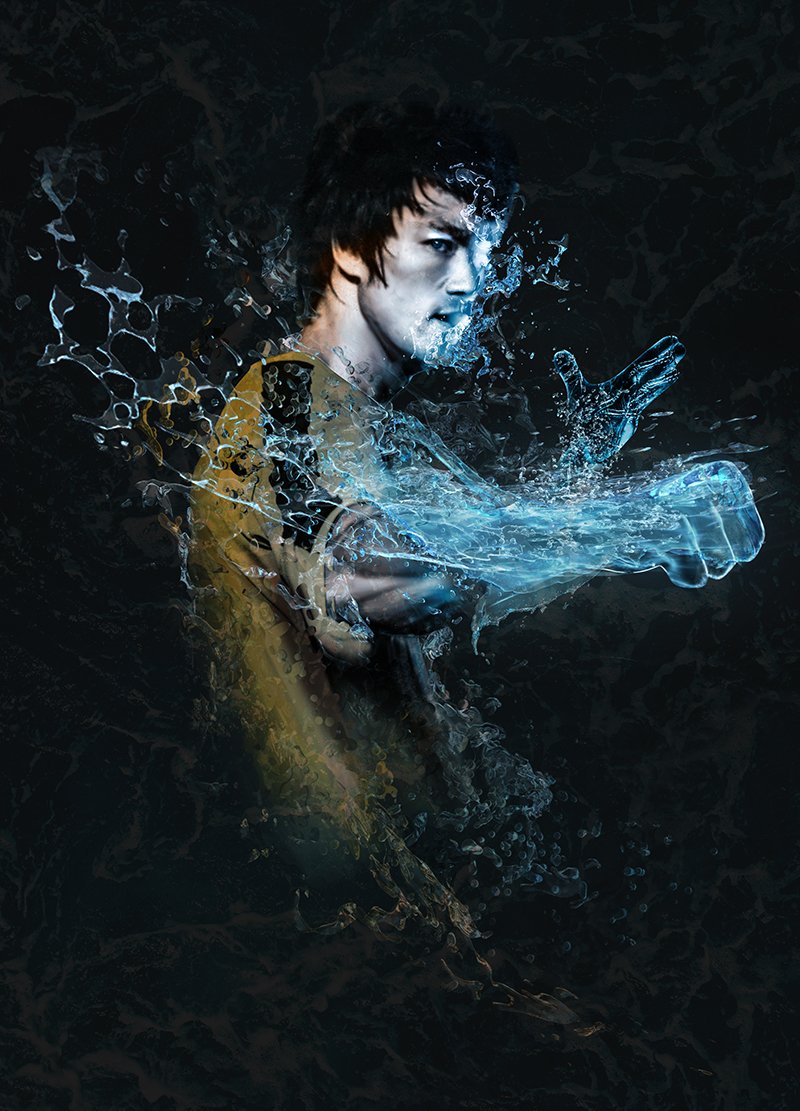 Marcus explains at the opening of Meditations that he learned from his teacher Sextus "Not to display anger or other emotions. To be free of passion and yet full of love." That's the secret right now. It's not that the Stoics had no temper or were fearless; it's that they managed those emotions. They replaced them with love. They loved themselves, and their fate (amor fati), they loved other people, and this profound empathy replaced pettier emotions rage, fear, and pain. Indeed the Stoics were not unfeeling.
Yes, it is annoying to have a student right before me, obviously not writing his essay, chatting with a deskmate trying to write while he doodles chemistry equations on a messy notebook. He's wasting an opportunity, he's disrespecting my effort to provide him an education. I look at him and think, yes, he's making himself a target for me, and I could ream him out for it and make a lesson of him. But why? I'm not a military drill sergeant. This is not what the school in China wants of me, so why put that weight on my shoulders only to ostracize myself from those whose support I need? Instead, I focus on what's important: my life, my family, my health, the overwhelming majority of positive interactions with hungry students who are excited to learn from me, and I am at peace once again. So I smile and think, poor guy, he's missing a great lesson, but I did my best. That's all I can do. I keep a smile on my face, teach those who want to learn, and let the rest live their own lives and make their own mistakes. In the pandemic, that's all we can all do, really.